Welcome to Tara's Beauty
A relaxed and comfortable experience for rejuvenated beauty treatments.
Xlase Plus Treatment
the laser and CPL light platform for many aesthetic treatments
Tara's Beauty provides wide range of laser and calibrated pulsed light (CPL) hair removal, treatments including general laser hair removal and treatments targeted at specific skin conditions such as ingrown hairs.
X-Lase is an important breakthrough in the treatment of a variety of skin and body imperfections. The simultaneous use of a Nd:YAG laser and an innovative calibrated pulsed light system (CPL) allows to solve various problems, such as unwanted hair, skin marks, freckles, ageing skin, unsightly small veins, enlarged pores, acne, rosacea and reddened skin.
The Nd:YAG laser provides fast and effective hair removal treatment even on dark skins. The calibrated laser beam ensures the light to penetrate into the deepest follicles, while its slow absorption guarantees the preservation of the surrounding tissues in all skin types. Different spot spacers allow effective treatment even for the toughest hair, excellent results on treating vascular problems and skin blemishes.
Xlase Plus CPL & NdYAG Laser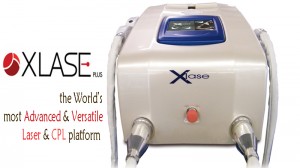 Our Brands
We are dedicated to provide the best services and products to our clients. Thus, we are associated with the latest & best brands, recommended by the professionals. 
Featured Products
Better Products. Better Price